Description
High Quality Stainless Steel Pneumatic Actuator is prelubricated and tested to a min one million operations. Actuators are available double acting and spring return models. Its meet international ISO5211 standards for easy vale mounting and replacement visual position indicator will monitor the open and closed position.
Working Pressure
Standard Temperature:-20~+80Degree

Low Temperature:-50~+80Degree

High Temperature:-15~+150Degree
Testing For All Actuators
All actuators manufactured by HEARKEN are individually tested. Testing is carried out to check the leakage in both internal and external. The angle of rotation and Torque values. All bodies are stamped with year, month of production, size and serial number.
Range of Standard Accessories are Available for Direct Mounting
| | | | | |
| --- | --- | --- | --- | --- |
| | | | | |
| Solenoid Valve | Limit Switch Boxes | Electro-pneumatic Positioner | Declutjable Manual Override Gearbox | Hign Visibility Indicator |
Interface Specification
Drive and Flange to ISO5211
configuration for easy direct
mount onto a valve or connection
with standardized mounting
hardw are.

The NAMUR Drive Pinion and
NAMUR top mounting connection
for direct installation of accessories
such as Limit Switch and
Positioner.

Air supply connection is designed
in accordance w ith NAMUR
Standard to install solenoid valve.
Bottom View Iso5211

Valve Automation And Flow Control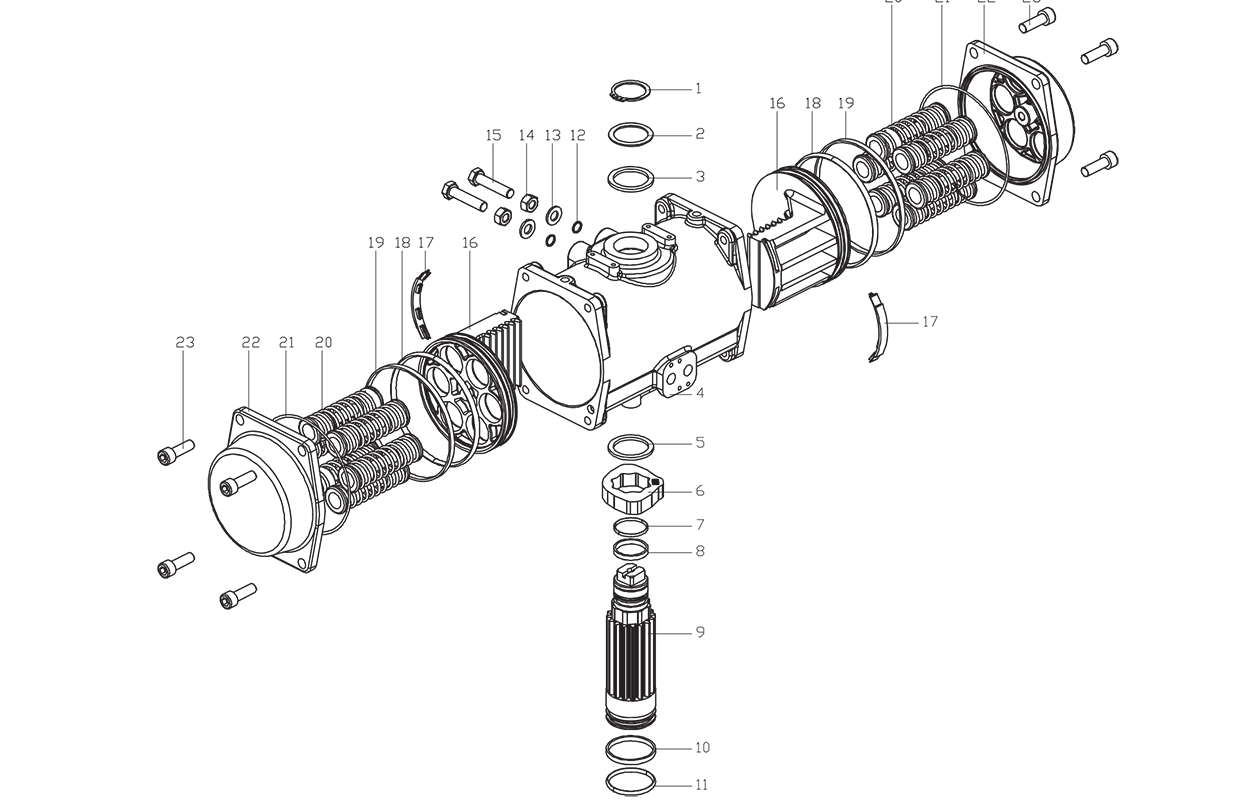 | | | | | |
| --- | --- | --- | --- | --- |
| No. | Discription | Qty | Standards Material | Optional |
| 1 | Spring Clip | 1 | SUS304 | SUS316 |
| 2 | Thrust Washer | 1 | SUS304 | SUS316 |
| 3 | Outside Washer | 1 | Engineering Plastics | |
| 4 | Body | 1 | SUS304 | SUS316 |
| 5 | Inside Washer | 1 | Engineering Plastics | |
| 6 | Cam | 1 | Forged Steel With Nickel Plated | |
| 7 | Bearing﴾Pinion Top﴿ | 1 | Engineering Plastics | |
| 8 | O‐ring﴾Pinion Top﴿ | 1 | NBR | Viton/Silicone |
| 9 | Pinion | 1 | SUS304 | SUS316 |
| 10 | Bearing﴾Pinion bottom﴿ | 1 | Engineering Plastics | |
| 11 | O‐ring﴾Pinion Bottom﴿ | 1 | NBR | Viton/Silicone |
| 12 | O‐ring﴾Adjust Screw﴿ | 2 | NBR | Viton/Silicone |
| 13 | Adjustment Screw Washer | 2 | SUS304 | SUS316 |
| 14 | Nut﴾Adjust Screw﴿ | 2 | SUS304 | SUS316 |
| 15 | Adjust Screw | 2 | SUS304 | SUS316 |
| 16 | Piston | 2 | ADC12 | |
| 17 | Guide﴾Piston﴿ | 2 | Engineering Plastics | |
| 18 | Bearing﴾Piston﴿ | 2 | Engineering Plastics | |
| 19 | O‐ring﴾Piston﴿ | 2 | NBR | Viton/Silicone |
| 20 | Spring | 0‐12 | Sprign Steel | |
| 21 | O‐ring ﴾End Cap﴿ | 2 | NBR | Viton/Silicone |
| 22 | End‐Cap | 2 | SUS304 | SUS316 |
| 23 | Cap Screw | 8 | SUS304 | SUS316 |