Stainless Steel Pneumatic Actuators
Publish Time:
Author: Site Editor
Visit: 21
Our Stainless steel pneumatic actuators are divided into spring return (single acting) and double acting pneumatic actuators.And stainless steel materials are available in 304, 304L, 316, 316L.The drive and flange of the stainless steel pneumatic actuator are ISO 5211 configured, It can be easily and directly mounted to a ball valve butterfly valve or interfaced with standardized mounting hardware. Stainless steel actuators can be easily converted from double-acting to single-acting. NAMUR top mounting connection for installation of accessories such as Limit Switch Box and YT-1000 Valve Positioner.

Stainless steel pneumatic actuator has good corrosion resistance, surface electropolished.The body is ideal for pulp and paper, marine and other corrosive industries.The post-maintenance and configuration cycle of stainless steel actuators is very simple, and you can contact Hearken at any time if you have any questions.
Our pneumatic actuators are ATEX, SIL-3, and CE certified. Single-acting and double-acting actuators require a supply pressure of 2-8bar. The standard temperature of the stainless steel actuator is -20~+80 degree, the low temperature is -50~+80 degree, and the high temperature is -15~+150 degree.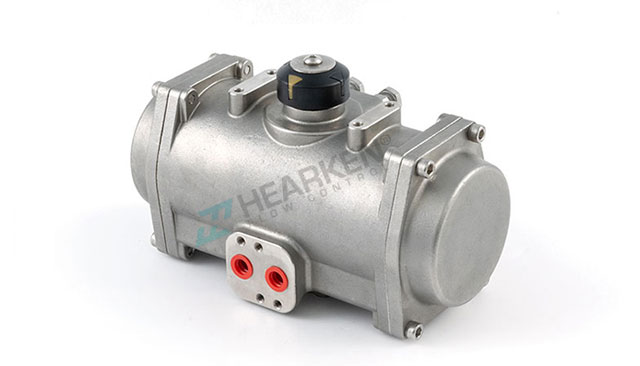 Maintenance of Stainless Steel Pneumatic Actuator
1.Periodic inspection of the pneumatic actuator valve is recommended to ensure that all fasteners remain tight.
2.When we use spring-return pneumatic actuators, long-term use may cause the springs to wear out, so we need to replace the springs regularly. When we replace springs, it is best to replace them in sets.
3.We have already lubricated the air operated actuator when installing it, so no further lubrication is required during use.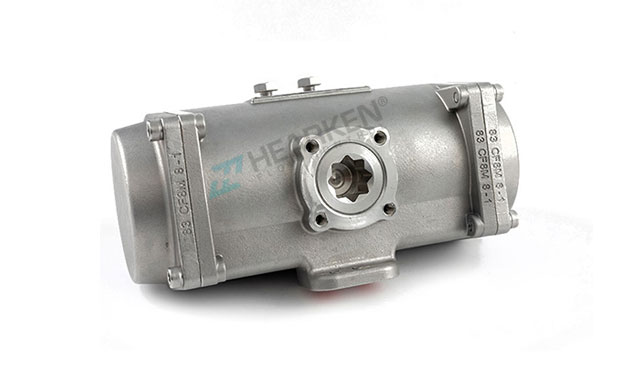 Advantages of Stainless Steel Pneumatic Actuator
The best advantage of stainless steel actuators is that they can be used in corrosive environments and have good corrosion resistance. Double piston rack and pinion design, compact structure, symmetrical installation position, high cycle life and fast running speed.